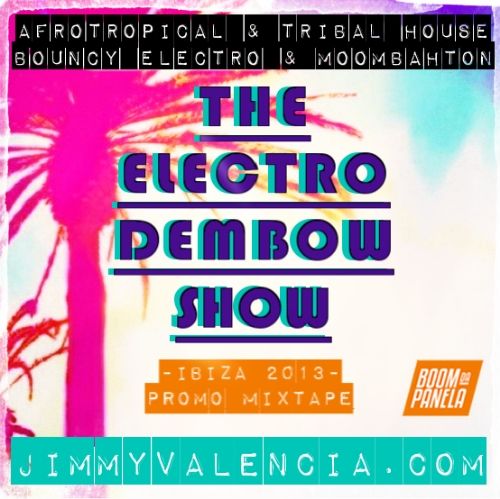 Yesssss party people, I´m really proud to finally present to you my Promo Mixtape for Ibiza 2013…
THE ELECTRO DEMBOW SHOW
This is the 1st official mixtape I drop since 'ELECTRO DEMBOW 3′ which I released from São Paulo at the beginning of my 2011/2012 South American tour. This time I wanted to put together an extra Housier demo to promote my visit to the White Island this Summer, so I compiled some of my favorite Electro Dembow vibes of the moment and mixed them together into various distinctive and specialized sets, each one of them with a particular party or time of the day in mind.
So from , I made sure this demo catered for everybody!
First, I start the mix with a sexy & very bubbly selection of Brazilian, Portuguese and Latin House just to get you into that Tropical Summer mood. Next, as things heat a up from 17'04″ onwards, I play a slightly tougher set of Dutch House & Bouncy Electro to make sure everybody´s hands continue in the air. I might drop the speed a bit at 25'58″, but the energy levels remain high throughout the banging Moombahton set. Finally, from 39'30″ till the end, the Tribal grooves take over to let you chill away with an exquisite set of Afrobeats & Tech House.
So now listen, download, comment, share and I hope you enjoy it as much as I did putting it together!
–
dj@jimmyvalencia.com // (+34) 7222 83839 // www.boomdapanela.tumblr.com
THE ELECTRO DEMBOW SHOW – #Ibiza2013 Promo Mixtape by Jimmy Valencia
★ • ★ • ★ • TRACKLIST ★ • ★ • ★ •
01. Dj Jimmy Valencia – EDB SHOW INTRO
02. No Maka – Ratata
03. Bryan Wilson & Sebastian Crayn – Até a Noite Parar (Gil Perez Remix)
04. Mastiksoul – Manya E Grande
05. Full Effect ft. Masterbeatzz – Hesa Dj
06. Praia Del Sol – Maria Lionza (Praia's Drums Dub) DJ JV Bumaye Refix
07. Mayra Veronica – Ay Mama Mia (Chocolate Puma Remix)
08. Real El Canario – Pegale
09. Marco V – Walhalla (DJ JV Extra Drums Refix)
10. Nouveau Yorican feat. Bear Who – Diga Me
11. Stefan Vilijn Ft. Mc Dirty B – Off Beat Swag (Fasta & Dj Relize Bootleg)
12. Chris Lake – Ohh Shhh (Whyel Moombah Edit)
13. Ackeejuice Rockers – Summer Trigger (Make Me Feel Good)
14. The Mane Thing & Sazon Booya – Perfect 10
15. Gregor Salto & KiT – Otro Dia
16. Yuri Da Cunha Feat Dj Malvado & Dj Kadu – Atchu Tchutcha
17. Balla Et Ses Balladins – Paulette (The South Bootleg)
18. MC Marcinho – Rap do Solitário (Carlos Nuñez Remix)
19. Silvio Luz – DeJa Vu (DJ JV Party Refix)
20. Fajah Lourens – SONIDOS (DJ JV Party Refix)
21. Dario Nunez & Diego Gonzalez feat. Luis Izquierdo – Eden (DJ JV Party Refix)